ASN Matrix
Michael Bradley Now Plays for Toronto FC. In MLS. Thoughts Please.
Sound off
ASN POLL
Who Is the Most Hated Man in Major League Soccer?
Vote
See Results
Our Podcast
ASN Questionnaire
Dillon Powers
"I learned an incredible amount from U.S. U-18 coach Mike Matkovich"
The ASN T-Shirt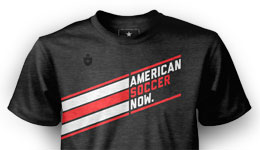 Limited-time offer. Highest quality. $24.
Order now
(All times Eastern)
UPCOMING USMNT GAMES
Date:

Opponent:

Result/TV:

Wednesday, Apr 2:

vs Mexico

10:00 PM

Friendly

Glendale, Ariz.

ESPN2, UniMas

Tuesday, May 27:

vs Azerbaijan

10:00 PM

Friendly

San Francisco

ESPN 2, UniMas

Sunday, Jun 1:

vs Turkey

2:00 PM

Friendly

Harrison, N.J.

ESPN 2, UniMas

Saturday, Jun 7:

vs Nigeria

6:00 PM

Friendly

Jacksonville, Fla.

ESPN, UniMas

Monday, Jun 16:

vs Ghana

6:00 PM

2014 World Cup

Natal, Brazil

ESPN

Sunday, Jun 22:

vs Portugal

6:00 PM

2014 World Cup

Manaus, Brazil

ESPN

Thursday, Jun 26:

vs Germany

12:00 PM

2014 World Cup

Recife, Brazil

ESPN